LOCKDOWN DOESN'T MEAN SHUT DOWN
You can fall back in love with food because Rennie's got your back...or more specifically, your stomach.
Mad Cow's duo Adam Johnson and Steve Downer created this fun, dream-like campaign for Wunderman Thompson.
The concept starts as a love letter to food, more specifically to spicy foods like chilli, a poem that underlines the joys that this food brings to our hero. The film is a choreographed visual fantasy of mouth-watering chillies and chilli powders dancing in slow motion - and although chillies are 'totes amaze' they bring unpleasant consequences. So, the poem quickly becomes a break up letter.
Until Rennie intervenes and saves the day, helping our protagonist fall back in love with the spicy stuff, never having to compromise a meal again. Living his ultimate fantasy of eating whatever he likes, whenever he wants.
The food FX work was shot using the Phantom and a Bolt rig, creating this dream sequence - with Direction & Photography by Steve Downer. The live action sequences were directed by Adam Johnson & the DOP was JP Seresin. Nick Armstrong from Cut and Run edited the piece.
Downer adds that the entire dream sequence was filmed using 'real chilis and real powder for all the shots so there was a natural organic variability in the way the effects behaved'. Johnson explains how this project is very close to his heart as he also has :'an unfathomable fondness for unfeasible spiciness coupled with a susceptibility to heartburn. I AM the central character!' and that the 'interminable hours throwing chillis through the air and fiddly contrazooms in a freezing cold Warsaw was consequently very much a labour of love'.
To see the full campaign, click below!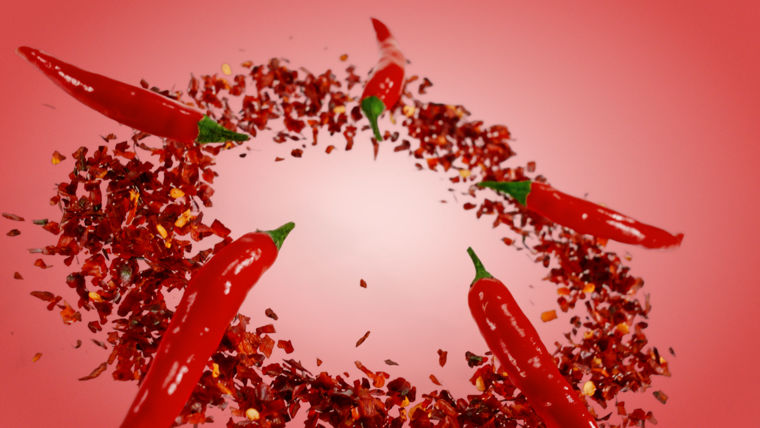 Rennie
Fall Back In Love With Food / Adam Johnson