Late last year the Mad Cow team travelled down to the southern tip of Morocco, very close to the Algerian border to film a European and global campaign for the good people of Saatchi & Saatchi London.
The spot, directed by our fabulous Parisian collective Nobrain & produced by Nicholas Unsworth pitted a scientific SWAT team in a race against time with an alien invading virus all set in the amazing unspoilt dunes of the Western Sahara.
The 40 strong crew mainly hailed from Marrakesh and travelled 8 hours from there to camp in an isolated eco-Wadi run by Taha, an old friend of Niko Pasquet (one third of Nobrain).
Battling zero wi-fi coverage, two storms of unheard-of intensity in that region & a 40mph sandstorm on the first shoot day, the team battled through and, with a combination of drone shooting, car to car filming and some great performances by the cast, they were able to bring back fantastic rushes (courtesy of Icelandic DOP Hákon Pálson) to Tetsuo, Nobrain's post facility in Paris.
The CGI virus and the extensive SFX took 3 teams, working in round the clock shifts, a total of eight weeks to finish and the final film is a real departure for the GSK brand, creating a fun, exciting, futuristic world with the SWAT scientists saving the world from extinction…well…cold sores.
AGENCY: Saatchi & Saatchi
CREATIVE DIRECTOR: Lauren Dyer
CREATIVES: Gabriel Garcia & Felipe Sampaio
AGENCY PRODUCER: Megan Sutton
DIRECTOR: Nobrain
EXECUTIVE PRODUCER: Pete Chambers
PRODUCER: Nicholas Unsworth
DOP: Hákon Pálsson
EDITOR: Nick Armstrong @ Cut & Run
POST PRODUCTION: Tetsuo
GRADING: Charles Keramoal
POST SUPERVISOR: Gaetan Legoff
3D: Thierry Canon, Charles Keramoal, Jerome Nguyen, Julie Cervantes, Nour Chamseddine & Mehdi Rami
2D: Lenaic Favard & Fabien Vantroys
3D VFX: Jerome Oliveras
DESIGNS: Saii
MUSIC: Tom Player @ Wake The Town
MIX: Mark Hellaby @ 750mph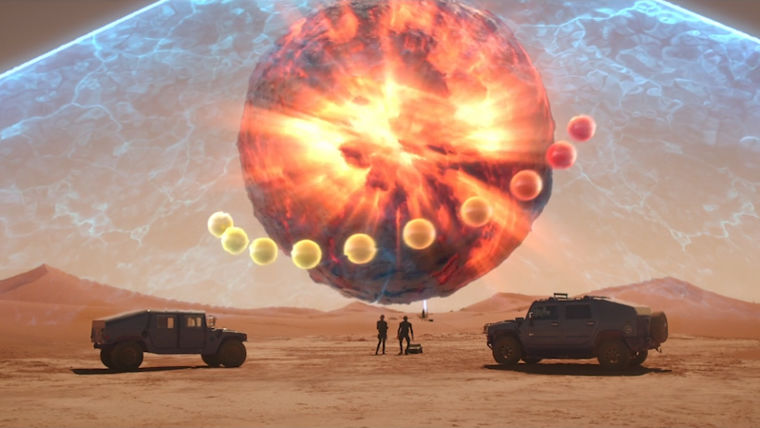 Zovirax
The Cold Sore Elimination Experts / No Brain